Available Works
This page is the gallery´s virtual shop window.

The available works (and more books and graphics) can in general be acquired through my site at Abebooks.com - the works below are listed there if they are not on hold.

If you have questions please do not hesitate to contact me.
Computer Art
Cybernetic Serendipity Collector´s Set

Gilles Gheerbrant, editeur

Manfed Mohr

Vera Molnar

Vera Molnar:
Images pour Fannie
machine drawing, Size of work 8x8 cm, paper size: 9 x 9.2 cm, mounted on cardboard
Edition: 300 unique drawings

generated: 1980
microcomputer: ITT 2020 (Apple II clone)
drawing machine: HIPLOT
made at Université de Paris I, Sorbonne

Images pour Fannie, Abebook.com Link

Frieder Nake

Frieder Nake:
25/2/65 Nr. 14 (Rectangular Random Polygon)
machine drawing, 31 x 22,5 cm
Edition: verso: handsigned Nake, numbered as one of 150 unique drawings

generated: 1965
main frame: ER56 - Standard Elektrik Lorenz
drawing machine: Zuse-Graphomat 64


Frieder Nake page on heikewerner.com

see also: Art Ex Machina



Georg Nees

»MBB Computer Graphics«

Rolf Woelk

Rolf Woelk:
Randomly twisted tetrahedrons, 1971/1972
machine drawing on transparent paper, signed
60 x 61 cm

The twisted tetrahedrons belong to the series Woelk worked on in 1971 and 1972. Some graphics of this work phase were published in the book Computer Graphics in 1972.

Roelf Woelk page on heikewerner.com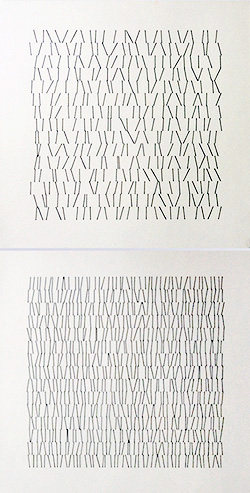 Rolf Woelk:
Rows of randomly twisted linear elements, 1971/1972
two machine drawings on transparent paper, signed
each 46.5 x 46.5 cm

These graphics belong to the series Woelk worked on in 1971 and 1972. Graphics of this work group were published in the book Computer Graphics in 1972 and a few were edited in silk screen editions.


Roelf Woelk page on heikewerner.com



Rolf Woelk:
Cubes in a grid, 1971/1972
machine drawing on transparent paper, signed
30 x 31 cm

This plot belong to the series Woelk worked on in 1971 and 1972. Graphics of this work group were published in the book Computer Graphics in 1972.

Roelf Woelk page on heikewerner.com



Harold Cohen

Harold Cohen / AARON:
Two AARON drawings (At the Tate), 1983
generated at the Tate Gallery London 1983
machine drawings, signed in pencil by Harold Cohen
57 x 76 cm

Abebook.com Link

Hans Köhler - IBM Edition

Photography
Generative Photography: Gottfried Jäger and Hein Gravenhorst

Gottfried Jäger: Generative Fotografie
Folder including 16 picture plates by Gottfried Jäger and Hein Gravenhorst and two pages of text
published in Bielefeld, 1969
offset-lithograph picture plates 29,8 x 21,2 cm
title printed on each plate
works generated: 1967 - 1969

see page on heikewerner.com

Abebook.com Link




Gottfried Jäger: Visuelle Systeme. Bd. 1.
artist´s book from the work phase »Shift Program / Schiebungsprogramm«
published in Bielefeld, 1980
print run: 50
numbered, signed
generated: 1979/80

see page on heikewerner.com

Abebook.com Link

Erich Hartmann

Erich Hartmann:
2 photographic prints, 1981
edition for IBM: number unknown
© Erich Hartmann / Magnum Photo


Abebook.com Link



Other Fields of Art: Typography
Hansjörg Mayer

Hansjörg Mayer: Typoaktionen 2
26 typoaktionen prints on light cardboard (29.5. x 42.0 cm / Format A3)
edition: 100
signed


Abebook.com Link

more works by Hansjörg Mayer on Abebooks:
alphabetenquadrate
16 4 66



Other Fields of Art: Architecture
Frei Otto

Frei Otto: Sketch
offset print, 1995
edition: 100
monogrammed by hand, signed in print


Abebook.com Link



Yuri Avvakumov

Yuri Avvakumov: Ladder Sketch
serigraph, 1995
edition: 100
signed


Abebook.com Link